Proteins are the building blocks of our body. Proteins help in cutting our body fat and building our muscles. Not only bodybuilders but every individual should follow a rich protein diet for healthy living. While a lot of us depend on protein shakes or expensive protein diet, I will write down a list of low-cost high-protein snacks that are easy to make at home.
Greek Yogurt
Greek yogurt is fat-free and is a good source of protein. It contains 10 grams of protein per 100 grams served.
Steps
Buy half a kilogram of yogurt
Whip it in a bowl for 2 minutes
Put a thin cotton or muslin cloth in the strainer
After spreading the cloth inside the strainer put the yogurt in it
Now pick all four corners of the cloth and tie it up tight
Press the cloth by the strainer until all the water from the yogurt is strained out
After the last drop of water, remove the yogurt from the cloth and put it in a bowl
Put it in the fridge for 2-3 hours.
After 3 hours your greek yogurt is ready to eat
Hummus Sandwich
Hummus, a popular spread in the middle east is rich in proteins. 100 grams of Hummus contains 8 grams of protein.
Steps
Take 3/4 cup of white chick peas and and put it in a bowl of water overnight
Remove the water and put only the chick peas in the cooker
Add 2 cups of water and heat it for 10 minutes
Now roast 1/4 cup of sesame seeds in a frying pan
Roast the seeds for 2 minutes on a medium flame
Keep stirring the seeds for 2 minutes
Now put the dry chickpeas and the sesame seeds in a blender
Add 6 pieces of garlic, 1 whole lemon juice(without seed), 2 tablespoon olive oil, and some salt for taste in the grinder
Blend it for a minute
If dry, add some more olive oil or 2-3 tablespoon of water and blend it again for 2 minutes
Put in a bowl and add some chilly flakes for garnishing
Use whole wheat bread and spread some hummus on it
Add an omelette or scrambled eggs to the bread.
Peanut butter
Peanut butter is rich in proteins. Every 100 gms of peanut butter has 25 gms of proteins in it.
Steps
Remove the skin but putting it in a cloth and rubbing the cloth
Roast the peanuts for 10 minutes or until they turn golden
After that put it in a blender
Blend it till its just powder
Add some peanut oil only to the powder
Add a table-spoon of honey and a pinch of salt
Now blend it again in the blender for 1 minute
Now remove it and store it in a jar
Toast bread and use this as a spread for a quick snack
Protein bars
Protein bars or energy bars are a very good wholemeal option. Each bar contains 25 gms protein. Though a bit expensive in the stores they can be made at home at a lesser price.
Steps
Roast 1 cup of oats till its colour changes
Now take a bowl and add
1 cup almond
Roast them all for 5 minutes
Take another bowl
Add 1 cup brown sugar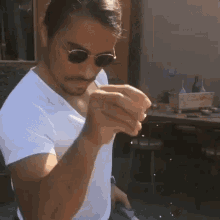 Heat it for 4 minutes
Now mix the dry fruits and the oats with this mixture
Heat them all for 2 minutes
Now wait till it cools down
Put it in the freezer for 1.5 hours
Now its ready to eat
Cut them is small pieces for your everyday use